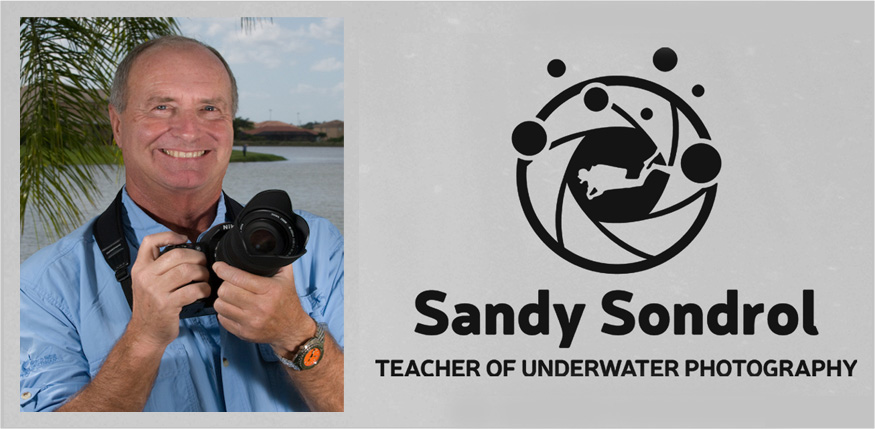 You create the dive trip for your photographers to your standards.
You chose the destination
You chose the time
You chose the participants
Sandy provides the photo course and support
For all experience levels from "I got this compact camera last week" through very good SLR shooters.
Evening presentations highlight specific skills and techniques followed by:
Practicing those techniques during the following morning's dives
Reviewing results during lunch
Fine tuning results during afternoon dives
Group review of photos from that day highlighting good results or difficulties to help participants find solutions
Costs pre-calculated and included in trip cost. The cost per person remains low while the value per person is high.
Focus is customized to the brands and types of equipment participants have Equipment recommendations based upon what the shop sells and has available creating shop sales and product support.
The week is structured following this general format:
A presentation early in the evening (usually before dinner so that people can concentrate, but during "cocktail hour" so everyone is relaxed).
Morning dives concentrate on the subject of the previous night's presentation.
At lunch, they look at the photos that were shot in the morning, either on camera or on computers.
People use noon-time feedback to fine-tune their afternoon shooting.
At the end of the day, people download photos and bring Sandy a thumb drive with examples that they want to show or talk about.
At the beginning of each evening's presentation sample photos shot during the day are reviewed so that everyone (as a group) can see and learn from each others' work.
The presentation for the next day's shooting follows.
No identify as to who shot which sample photo is given, to encourage people to contribute photos for the discussions; that way there is a nice mix of great shots and ones for which the shooter had problems or questions.
Sandy is in the water whenever participants are, to provide coaching. They also know that whenever they see him, whether on the boat, on the dock, in the hotel lobby, in the bar or wherever, he is always available to them.
Prior to the trip, Sandy downloads the camera manuals for all the cameras that are being shot during the trip so he is conversant with every camera being used.
During the trip, Sandy always presents the brands of camera equipment that your shop sells as being available for equipment selections.
We handle cost by estimating what it will cost Sandy to go (plus a small profit) and divide that cost among the participants. It is added into the cost of the trip and so becomes "painless" for the participants.
You can use marketing of the trip to encourage divers to begin shooting (and thus sell them cameras and photo gear without needing to stock it not knowing whether you can sell it or not).
This is a trip that will set you apart from the other shops in your area as well as creating another dive trip opportunity for your divers.
Week end shop courses and presentations can also be arranged.
Take a Look at Our
Special Deals
$300 off!*
Travel window: now – 10 September 2021
Price includes: 7 nights' accommodations, round trip airport transfers, welcome cocktail, all inclusive, 5-3 tank boat dives, tanks, weights, WiFi in rooms and common areas, kayak, stand up paddle boards & daytime social entertainment.
On the western tip of Roatan is Mayan Princess Beach & Dive Resort on West Bay Beach, considered by many to be the most beautiful beach in the Caribbean. This is Caribbean living at its best with condos, suites and tropical gardens designed to make your vacation in paradise relaxing and unforgettable! Experience world-class snorkeling and diving on the second largest coral reef in the world. Enjoy breathtaking sunsets from our beachfront patio or your private balcony. Relax by our signature Mayan pool with waterfalls, secluded jacuzzi and surrounding tropical gardens or pamper yourself at Kukut Spa.
Seize your Sunshine!
Travel window: now-22 December 2021
Price includes: 7 nights accommodations, hotel tax & service charges, round trip airport transfers, all meals and beverages, 5-2 tank boat dives, tanks and weights.
Secrets Aura Cozumel is the only hotel of its kind on picturesque Cozumel. Secrets Aura Cozumel combines all of the amenities of unlimited luxury with an unparalleled island vacation experience. With 266 luxurious, smoke-free suites, each featuring a king-size bed or two double beds, private terrace or balcony, full bathroom with whirlpool and complimentary mini-bar.